Welcome
Welcome to the Marans section of art and verse.com involving an exciting and rare adventure in genetic engineering - nature's way.

Twenty five years ago my wife and I were privileged to stumble across a once-in-a-lifetime opportunity to restore a breed of chickens that had ceased to exist in the first half of last century - without all the so-called advantages of DNA and genetic breeding.

My grandparents reared chickens in rural Essex, the county of my birth in England. It was the done thing in those days, especially in the war years when eggs were rationed and roast chicken was an expensive Sunday luxury.

It rubbed off, and once settled in our own home, I convinced my wife, Ginny, that it was time we kept chickens too. The ensuing story continues below.

If you have logged directly onto this page and would like to visit my main web site to view my art & verse Limited Edition Prints, such as the painting and poem on the right, simply click here: www.artandverse.com.


Peter M Butler
---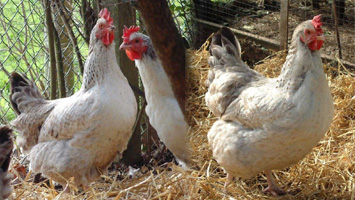 Silver Marans hens hatched 2001.
It wasn't long before Ginny took matters into her own hands and decided we should hatch chicks for the benefit of our two young children.

But "just one hatch", mind you!

So back in 1978 we purchased two fine Cuckoo Marans hens from Mr Harold Britcher of Colchester, Essex. We introduced them to our handsome, pure bred Cuckoo Marans rooster in our large garden at London Colney, Hertfordshire.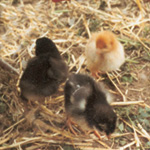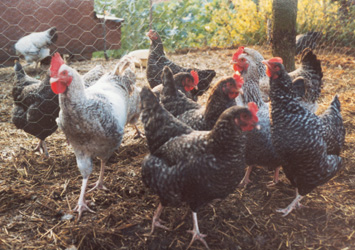 Top: A buff yellow Silver Marans chick with two Cuckoo Marans chicks in 1978.
Above: Silver Marans ranging with Cuckoo Marans in 1980.
But when the chicks hatched, something wasn't quite right. Some of them were the wrong colour. Intermingled with the standard black Marans chicks were a number of buff yellow offspring.

The black chicks developed into first rate Cuckoo Marans. And the buff yellows? They too took on all the characteristics of pure bred Marans - except for their plumage. Rather than the familiar black and grey barring, this developed into an attractive white and speckled silvery preen.

We called in the experts who, checking on the parentage of our birds, ruled out cross breeding. Our clutch of hens where indeed pure Marans. But they were not Cuckoo Marans. They were Silver Marans. And apparently Silver Marans had gone out of existence years before!

---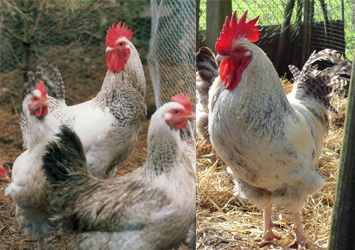 Breeding true year on year - Silver Marans 1982 (left) and 2002 (right).
What's more, the next year we hatched more Silver Marans hens than Cuckoo Marans. By chance of nature, the experts told us, our proud Cuckoo Marans Cockerel was endowed with a recessive gene which had restored the silver preen. But, they said, it might be a few years before we hatched a Silver Marans Cockerel.

Yet the impossible happened and several Silver Marans Cockerels turned up the very next year. Our Cuckoo Marans Sire didn't have a single recessive gene. He was indeed unique. He possessed a double-recessive gene!

After that there was no looking back and soon our entire flock were Silver Marans, breeding true each year, and laying coppertone eggs.

In the early 1980s we showed the birds at Birmingham and Alexander Palace and won several rosettes. Then, for several years we sold trios to fanciers around the country. But the demands of running our own business curtailed these activities.

In 1994 we moved home to Lemsford Village in Hertfordshire, where our Silver Marans flourish to this day.

---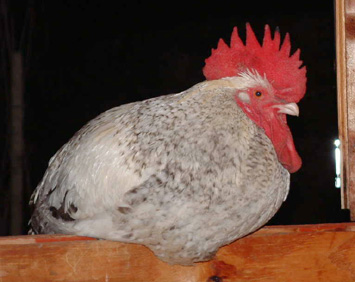 Above: Sir Charles Carver roosting on my den door.
An article on Marans in the September, 1999, issue of Fancy Fowl, states: "Even breeding from pure Marans has produced many cases of chicks which turn out pure black, white or silver. The latter are still being bred by Mr P Butler. They are lovely birds which lay a really beautiful egg. Strangely, these recessive genes may not have been manifest for years but every now and then produce another colour, usually in females."

I am anxious to know of any other poultry fanciers with Silver Marans. So far I have been fortunate to avoid the effects of in-breeding, but I need to introduce fresh blood to my flock.

After all this time, I would hate to see these handsome birds - which started with "just one hatch" in 1978 - fade into obscurity again.
Thanks to Alan Heeks, Secretary of the Marans Club, I am happy to report the successful introduction of fresh blood to my Silver Marans.

Alan put me in touch with fellow Marans Club member, Pam Payne, from Staplehurst, set in the beautiful Weald of Kent. Pam read my article in the 2002 Marans Club Yearbook and wrote to me via Alan enclosing photos of birds she had bred from her Cuckoo Marans. They were silver/white in hue with a touch of wheaten in the hens. I was convinced that one of her cockerels carried the same type of recessive gene that mine did all those years ago.

Pam and I exchanged visits in 2003 and then cockerels and hens and we are both very happy to announce successful hatches this Spring (2004) of very healthy clutches of Silver Marans chicks.

Now we are both anxious to get into contact with other fanciers whose Marans' plumage has given way to a silver/white preen because our Silver Marans are magnificent birds and well worth their place alongside the traditional Cuckoos.

My email address is given immediately below.
Pam can be contacted via Peter Payne at:
[email protected]
and Alan Heeks can be reached at:
[email protected]
---
contact me at: [email protected]
or call me on: +44 (0) 1707 328 348
If you entered this page via artandverse.com click here to return to the main site: