In his latest collection of Art & Verse giclée prints, artist and poet Peter Mark Butler presents the dazzling world of Jazz through paintings in acrylics complemented with prose.
Jazz Bands, Jazz Stars and Jazz Fans
From bass player to trombonist, trumpeter to pianist, drummer to saxophonist, Peter portrays the exquisite performances of modern day jazz greats and the exuberance of musicians in smaller bands on the jazz circuit. Following an inspirational visit to New Orleans in April, 2010, he is currently adding French Quarter Festival musicians to his collection. First and foremost is 98 year old band leader Lionel Ferbos, "the last man standing" from a bygone era of Jazz Greats, who continues on trumpet and vocals with amazingly youthful vigour.
Amongst Peter's other heroes are stars such Sammy Rimington on saxophone and clarinet, Cuff Billett on trumpet, Mike Pointon on trombone, Annie Hawkins and Trefor Williams on Double Bass, Eric Webster on Banjo, Eric van Pelt on Piano and Peter Lay on drums. Jazz fiends one and all in performance at the Ken Colyer Trust New Orleans Jazz Parade at Hemsby, Norfolk, in October, 2008. 
Jazz Art - Legendary Jazz Virtuosos
Of special note are his paintings and poems featuring jazz legend Sammy Rimington in saxophone duet with up and coming jazz virtuoso Amy Roberts, enthralling fans at the Ken Colyer Trust Hemsby festival.
Jazz Paintings - The New Orleans Beat
Peter has also joined the Jazz circuit to feature 'The Fallen Heroes', famed for their  high energy perfomances of blues, funky jazz and contemporary New Orleans street beat. Completed paintings and poems include band leader Emil Martyn turning up the heat on drums and vocalist Dom Pipkin pumping piano.
Rubbing Shoulders with Acker Bilk and Terry Lightfoot
Not least in Peter's ever expanding Jazz art portfolio of bands and their artistes is the Hertfordshire based jazzman of longstanding fame, Bob Thomas and The Thomcats. Before forming the Thomcats, Bob played with a numer of top bands and rubbed shoulders with the likes of Acker Bilk and Terry Lightfoot. Art & Verse prints include Bob on trumpet and fellow Thomcat, Tim Curtis on sousaphone.
Order Your Jazz Art Prints Now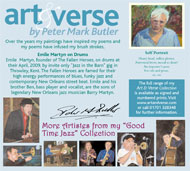 An Authentication Certificate is issued with each print describing the artist's inspiration for the painting and the poem.
So welcome, jazz fans and art connoisseurs, to Peter's Art & Verse Good Time Jazz Collection. Indulge, enjoy and perchance place an order for a jazz print of your choice. To make this easy for you, please order online by using the PayPal facility immediately below which has been set up especially for the Jazz Collection.
Each Giclée print is individually produced to the very highest standards by the artist himself and personally hand signed. They are offered on archival quality paper and scaled in proportion to the painting and poem. Sizes are based on an A3 format (420 x 297 mm;  16.5 x 11.7 inches). If you prefer smaller prints, an A4 format is available (297 x 210 mm; 11.7 x  8.3 inches).
Prices per print including the Authentication Certificate are:
A3 Format: £39.00
A4 Format: £29.00
Postage: UK postage prices are listed for single items. Prices for overseas postage and for packing and postage of multiple items will be notified upon placement of orders.
Should you wish to contact artist Peter Butler, please e-mail him at: 

Current Available Prints
Ordering Options
Visitations
Giclée print of painting and poem on archival quality paper including Authentication Certificate
He Der Man!
Giclée print of painting and poem on archival quality paper including Authentication Certificate
Neighbors Well Met
Giclée print of painting and poem on archival quality paper including Authentication Certificate
Esther Enthrals Her Fans
Giclée print of painting and poem on archival quality paper including Authentication Certificate
Long live Jazz, Long live Lionel Ferbos
Giclée print of painting and poem on archival quality paper including Authentication Certificate
Let the Good Times Roll!
Giclée print of painting and poem on archival quality paper including Authentication Certificate
Barry Martyn at the 100 Club
Giclée print of painting and poem on archival quality paper including Authentication Certificate
Take Two Sammys
Giclée print of painting and poem on archival quality paper including Authentication Certificate
Mike Pointon on Trombone
Giclée print of painting and poem on archival quality paper including Authentication Certificate
Sammy Rimington on Clarinet
Giclée print of painting and poem on archival quality paper including Authentication Certificate
Cuff Billett on Trumpet
Giclée print of painting and poem on archival quality paper including Authentication Certificate
Annie Hawkins on Bass
Giclée print of painting and poem on archival quality paper including Authentication Certificate
Pete Lay on Drums
Giclée print of painting and poem on archival quality paper including Authentication Certificate
Eyes on the Master
Giclée print of painting and poem on archival quality paper including Authentication Certificate
Double Bass Ace
Giclée print of painting and poem on archival quality paper including Authentication Certificate
Honky Tonk Time
Giclée print of painting and poem on archival quality paper including Authentication Certificate
Good Time Jazz
Giclée print of painting and poem on archival quality paper including Authentication Certificate
Emile on Drums
Giclée print of painting and poem on archival quality paper including Authentication Certificate
Dom Pipkin Pumps Piano
Giclée print of painting and poem on archival quality paper including Authentication Certificate
Bob Thomas and The Thomcats
Giclée print of painting and poem on archival quality paper including Authentication Certificate
Tim on Tuba
Giclée print of painting and poem on archival quality paper including Authentication Certificate
Sax, Trumpet and Bass
Giclée print of painting and poem on archival quality paper including Authentication Certificate
Double Take
Giclée print of painting and poem on archival quality paper including Authentication Certificate
Burt on Banjo
Giclée print of painting and poem on archival quality paper including Authentication Certificate
Frederic John on Trombone
Giclée print of painting and poem on archival quality paper including Authentication Certificate
Measured Beat and Rolling Peal
Giclée print of painting and poem on archival quality paper including Authentication Certificate
A Strummin' and a Drummin'
Giclée print of painting and poem on archival quality paper including Authentication Certificate
Washboard Rhythm King
Giclée print of painting and poem on archival quality paper including Authentication Certificate