Artist and poet, Peter Mark Butler, presents his paintings and poems as individually hand signed Giclée prints
From majestic Scotland and picturesque England to glimpses of New Mexico, from verdant hills to coastal splendour, animal magic to random portraits, Peter delights in creating a fusion of paintings and poems, which he aesthetically produces as

Art & Verse Giclée prints

.

His latest acrylic collection presents the dazzling world of Jazz.
Self Portrait
Hoary head, sullen glower,
Furrowed brow, mood so dour!
An imposter's pose
For oils and prose.


Peter Mark Butler
Oils, 1992



Hertfordshire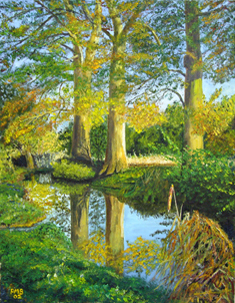 The Wagoners' Pool

Three mighty oaks
Reach deep, reach high,
Reflected strength against cobalt sky.
Sentinels supreme astride the pool
Where wagoners once
Rested mules to cool.

Oils, 2002


Kent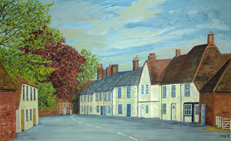 Ikham

Ikham, secret village
hidden east in Kent,
Where time stands still
and silent hours are spent
Reflecting on the days
When rural ways
Filled farms and stores,
inn and church,
With life and laughter,
banter, merriment.

Oils, 1992
You can email the artist at: [email protected]
---
The Art & Verse Gallery uses Flash™ technology. If need be, use the link below to download the latest plug-in.

Each of Peter's paintings and poems is sublimely interwoven and a selection is displayed on this page. To view scaled examples of his
Giclée prints
and descriptive Authentication Certificates go to:
To explore the full range of Peter's works and enlarge any of the pictures or Art & Verse prints of his paintings and poems, be sure to visit his:
Whether painting landscapes, seascapes, portraits, animals or wildlife, Peter revels in the vibrant use of pigments and diversity of oils, acrylics and watercolors, all magically captured by perfecting his very own Giclée process.
Artistic and Poetic Inspiration
To discover more about the inspiration for his art and prose, take a tour of the various art & verse links. Peter takes great joy in penning his poems to depict the themes and moods of each of his paintings, either whilst at the easel or when they are finished. Or the poems come first and inspire his brush strokes.
He has also written a series of stories especially for cat lovers. Simply click on the picture of Oscar below to view the first story and the Art & Verse print.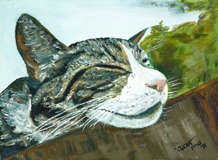 Oscar

Oscar, Feline Sire
Who lords it over all,
We are our servants loyal,
Ever at your beck and call.

Oils, 1991

Scotland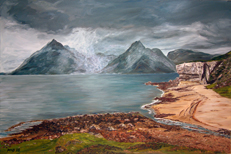 Elgol

Elgol, where, swathed in
Mists and mystery,
The Cuillins reach the sea.

Oils, 1993


Animal Magic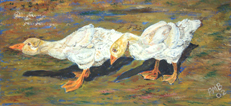 Gosling Patrol

"Who goes there?
I'll take a gander."
"Steady, beware,
Don't raise your dander.
You're just a gosling,
Nothing grander."

Acrylics, 2002



America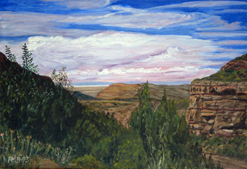 View from Cloudcroft

West of Cloudcroft's lofty storeys,
Bounded by stepped bluff rock eyries,
Under cobalt skies,
The Sacramento Mountains range.
Beneath the looming shrouds
Of rose madder clouds
Stretch out White Sands
In shimmering strands,
Spanning Tularosa's floor.
Oils, 1993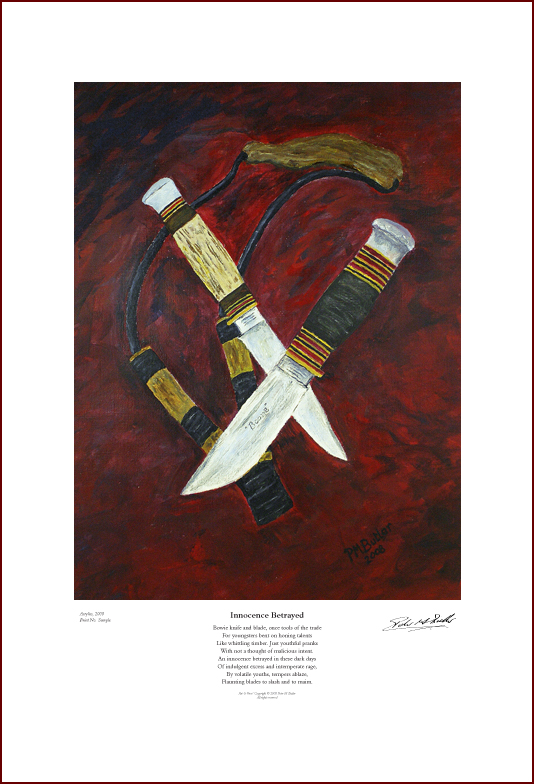 Perspectives on Life
Innocence Betrayed
Bowie knife and blade,
Once tools of the trade
For youngsters bent on honing talents
Like whittling timber.
Just youthful pranks
With not a thought of malicious intent.
An innocence betrayed
In these dark days
Of indulgent excess
And intemperate rage,
By volatile youths, tempers ablaze,
Flaunting blades to slash and to maim.

These sheaf knives are mine. In my youth back in the 1950s, life was more relaxed and people were far more at ease with each other. As youngsters we were permitted to carry sheaf knives and used them in all innocence, perhaps to whittle away at wood. Then, come age 17 or 18 we'd lose interest in them. Not so today when, scarred by a society ill at ease with itself, malcontented youths carry knives if
not with malicious intent then for
self preservation.
"Respect" is their meaningless byword. But true respect for relatives, friends and neighbours has been lost. Concern, love, for our fellow men and women all too often falls foul of callousness and hatred. Why? Because we've forgotten the meaning of true love and substituted human rights in its place.
"Love is kind and patient, never jealous, boastful, proud, or rude. Love isn't selfish or quick tempered. It doesn't keep a record of wrongs that others do. Love rejoices in the truth, but not in evil. Love is always supportive, loyal, hopeful, and trusting. Love never fails!"