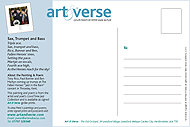 The message side of each card includes an image of the Giclée Art & Verse print, the poem and a paragraph about the musicians.
In addition to his Giclée prints, Peter has produced a series of collectible postcards featuring his jazz portraits and poems.
Order Your Jazz Souvenir Postcards Now
To help you make your selection and place your order order using the PayPal facility, the current collection of cards is shown below. The poem is printed on the reverse side of each card along with a details about the musicians as shown in the illustration.
Packing & Postage: UK postage prices are listed for single card and multiple card orders. However, discounts can be offered for multiple orders and should jazz fans wish to take advantage of this please e-mail: Prices for overseas postage will be notified upon placement of orders.

Current Available Cards
Ordering Options
Mike Pointon on Trombone
Good Time Jazz Souvenir Postcard
'Modern' Format measuring 152mm x 102mm
Sammy Rimington on Clarinet
Good Time Jazz Souvenir Postcard
'Modern' Format measuring 152mm x 102mm
Cuff Billett on Trumpet
Good Time Jazz Souvenir Postcard
'Modern' Format measuring 152mm x 102mm
Annie Hawkins on Bass
Good Time Jazz Souvenir Postcard
'Modern' Format measuring 152mm x 102mm
Pete Lay on Drums
Good Time Jazz Souvenir Postcard
'Modern' Format measuring 152mm x 102mm
Eyes on the Master
Good Time Jazz Souvenir Postcard
'Modern' Format measuring 152mm x 102mm
Double Bass Ace
Good Time Jazz Souvenir Postcard
'Modern' Format measuring 152mm x 102mm
Honky Tonk Time
Good Time Jazz Souvenir Postcard
'Modern' Format measuring 152mm x 102mm
Good Time Jazz
Good Time Jazz Souvenir Postcard
'Modern' Format measuring 152mm x 102mm
Emile on Drums
Good Time Jazz Souvenir Postcard
'Modern' Format measuring 152mm x 102mm
Dom Pipkin Pumps Piano
Good Time Jazz Souvenir Postcard
'Modern' Format measuring 152mm x 102mm
Bob Thomas and The Thomcats
Good Time Jazz Souvenir Postcard
'Modern' Format measuring 152mm x 102mm
Tim on Tuba
Good Time Jazz Souvenir Postcard
'Modern' Format measuring 152mm x 102mm
Sax, Trumpet and Bass
Good Time Jazz Souvenir Postcard
'Modern' Format measuring 152mm x 102mm